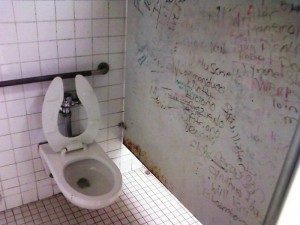 Texas, which continues to lag behind most other states in workers' rights, enacted a new law effective September 1, 2015, which provides some working moms with protections in the workplace to pump their breast milk.    Texas H.B. 786 requires all public employers (e.g., state agencies, cities, counties, and school districts) to provide a place, other than a multiple user bathroom, that is shielded from view and free from intrusion from other employees and the public, where the employee can express breast milk.   The new law, however, does not apply to a majority of working moms who are employed in the private sector.
It is interesting to note that the original draft of the bill excluded the use of any bathroom as a designated breast pumping place, but an amendment brought by Van Taylor (R-Plano), added the language, "other than a multiple user bathroom."   Presumably, Van Taylor, who previously made the list of Texas' Worst Legislators by Texas Monthly Magazine, believes that moms should feel comfortable pumping breast milk sitting on a toilet seat in an unsanitary single user restroom, while co-workers are impatiently waiting outside to use the same restroom.
This new law also prohibits discrimination or retaliation against employees who assert their rights under the statute, but Taylor's amendment added language that prevents workers from bringing lawsuits if such discrimination or retaliation does occur.
Texas' new breast pumping law is a small victory, and a reminder of the barriers that still exists in the workplace for working moms.
"As soon as you are ready to eat your lunch in the bathroom, I'll breastfeed there."

–        Author unknown