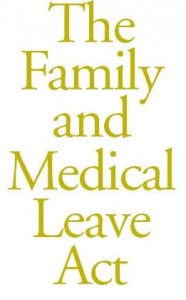 All of us feel the tension between work and family life.    At some point, you or a family member will face a serious health condition, or perhaps a pregnancy.    Will your job be protected if you need to take time off for a medical reason or maternity leave?
In 1993, Congress enacted into law the Family and Medical Leave Act.   For every American worker who qualifies, you are legally entitled to take up to 12 weeks of unpaid leave in a twelve month period; maintenance of health benefits during the leave period; and the right to be reinstated to the same or equivalent position after taking this leave.   FMLA leave can be for the birth of a child and that child's care (maternity leave); for your own serious health condition; or to care for a child, spouse or parent who has a serious health condition.
There are, however, a few other tidbits you should be aware of:
After advising your employer of the possible need for medical or maternity leave, your employer has 5 days to provide you with a copy of the Notice of Eligibility and Rights & Responsibilities Notice;
If your employer interferes or deprives you of the right to take FMLA leave, a legal claim can be brought against your employer.  The law does not require a showing of "intent" to successfully bring a legal claim asserting FMLA "interference";
The law prohibits retaliation by your employer after requesting or taking FMLA leave;
Supervisors can be sued in their individual capacities for violations of the FMLA; and
Requesting an extension of your FMLA leave may be a "reasonable accommodation" request under the Americans with Disabilities Act.
Employees need not choose between their health and their jobs.    The FMLA is an important law that provides American workers protections in the workplace, but it is only effective if employees know and assert their rights.