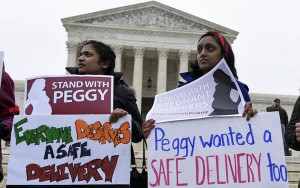 The U.S. Supreme Court recently decided the highly anticipated case of Peggy Young v. UPS, and addressed the unresolved question of whether pregnant employees are entitled to workplace accommodations due to their pregnancy.    The Supreme Court's response . . . yes, but it depends.
I have represented pregnant employees who experienced the same type of discriminatory treatment as Peggy Young.     You have a female employee whose job requires some lifting.    During her employment she rarely lifts heavy objects, and when she does, she is usually assisted by a co-worker.   But once she announces her pregnancy and provides a doctor's note with lifting restrictions, this worker is told she cannot perform the essential duties of her job (e.g. lifting).    When the employee responds that she was assisted by co-workers in the past, the human resources department will often respond that co-workers are not permitted to help, or assistance cannot be guaranteed.
At that point, the pregnant worker is looking at termination on the spot, or if qualified, twelve (12) weeks of unpaid FMLA leave which will expire before the baby's delivery date.  Either way, a new mother will welcome her baby into the world with no income or insurance coverage, often looking to public assistance for help.
Peggy Young was employed as a part-time delivery driver with UPS.    During her employment she became pregnant and her physician limited her lifting to no more than 20 lbs.    Because a delivery driver's job description required lifting up to 70 lbs., Young was placed on an unpaid leave and she lost her insurance benefits.    UPS policies, however, did allowed accommodations, but only to workers who suffered job-related injuries, had a disability, or had their DOT license suspended due to medical reasons.   Young sued under the Pregnancy Discrimination Act.    The trial court dismissed her claim, and the Fourth Circuit Court of Appeals upheld the dismissal.
In a 6-3 vote, the U.S. Supreme Court reinstated Young's case, holding that fact issues existed for a jury to decide.  While the Court did not go as far to state that employers were legally required to grant accommodation requests for all pregnancy-related work restrictions, it rejected UPS's argument that a "pregnancy-neutral" policy that provides accommodations for some situations, but not others, was automatically non-discriminatory.      In altering the legal analysis on how lower courts will view these types of cases in the future, the Supreme Court held that pregnant workers are entitled to a jury trial if there is:
"significant evidence that the employer's policies impose a significant burden on pregnant workers, and that the employer's "legitimate, non-discriminatory" reasons are not sufficiently strong to justify the burden, but rather – when  considered along with the burden imposed – give rise to an inference of intentional discrimination."
In other words Mr. Employer, if you are going to accommodate lifting restrictions for workers with disabilities or workers who were hurt on the job, you don't have a very compelling argument to deny pregnant workers the same accommodation.
A good decision for female employees who don't have to fear about choosing between motherhood and their job.
"Whatever women do, they must do twice as well as men to be thought half as good.   Luckily, this is not difficult."

–   Charlotte Whitton