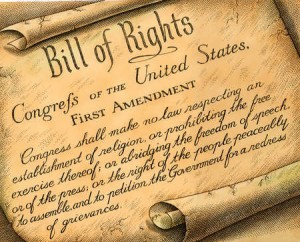 Edward Lane was the director of an underprivileged youth program operated by a community college in Alabama.  Lane discovered that Suzanne Schmitz, an Alabama State Representative, was stealing taxpayer money by being on the program's payroll, but not showing up for work.    Lane shared his findings with the college's president and attorney, but was warned of the "negative repercussions" if Schmitz was fired.    After Lane unsuccessfully attempted to address the issue with a defiant Schmitz, Lane terminated her employment.    Schmitz was later indicted and convicted on federal corruption charges, and Lane testified twice under subpoena in her criminal trials.    A short time after Lane's testimony, he was laid off in a reduction in force.   Lane sued alleging his termination was retaliation for exercising his First Amendment rights.
The trial court dismissed Lane's case, and the dismissal was upheld by the 11th Circuit Court of Appeals.   Both courts relied on the precedent created in the controversial U.S. Supreme Court decision of Garcetti v. Ceballos.    In Garcetti, an assistant district attorney named Richard Ceballos was subjected to retaliatory treatment after issuing a memorandum recommending the dismissal of a criminal case.  Ceballos stated in both the memorandum and in meetings that he believed a sheriff's deputy lied in an affidavit to attain a search warrant.  The Supreme Court held that because Ceballos' memo and communications to supervisors was part of his job duties, he was not speaking as a "citizen", but rather as a "public employee", and therefore his speech was not protected under the First Amendment.
Since Garcetti, employment attorneys, trial judges and even appellate courts have struggled in determining what public employee speech is protected under the First Amendment.     The Lane case has now provided some clarity and direction.
In a unanimous decision, the U.S. Supreme Court reversed the dismissal of Lane's case, finding that Lane's sworn testimony in court, unlike Ceballos' internal memorandum to supervisors, was protected speech.   In a very good opinion for public sector employees, the Court reminds us of the significance of the First Amendment, which "was fashioned to assure unfettered interchange of ideas for the bringing about of political and social changes desired by the people."    The fact that an employee, like Lane, learns of alleged unethical or unlawful activities while performing his or her job duties is not a bar to First Amendment protections, for "government employees are often in the best position to know what ails the agencies in which they work."  Since Lane's testimony in a criminal trial was not part of his official job duties, he was speaking as a "citizen", and his speech was therefore protected under the First Amendment.
Many times, good lawyers can get around bad law.   Rather than arguing that Lane was retaliated against for internally reporting unlawful activities to supervisors, his attorney argued he was retaliated against for testifying truthfully under subpoena in a criminal trial.    This was the right argument to allow the Supreme Court to soften the negative impact Garcetti has had on First Amendment Retaliation cases for several years.
"Restriction of free thought and free speech is the most dangerous of all subversions. It is the one un-American act that could most easily defeat us."

  –  Supreme Court Justice William O. Douglas